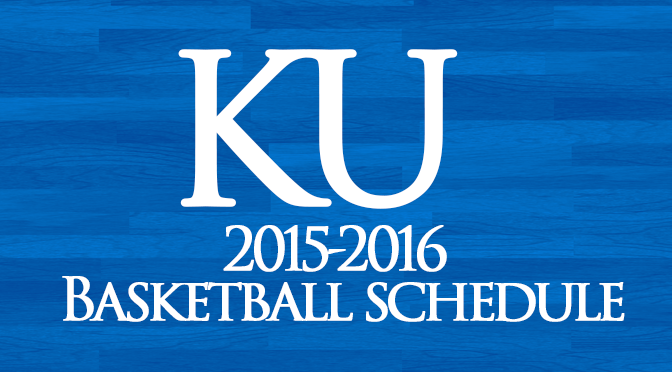 Get ready basketball fans.
The 2015-2016 Kansas Basketball schedule has been released in full, and gives fans a chance to see what lies ahead for another title-contending team in Lawrence, Kan.
Bill Self's Jayhawks already made offseason noise by going 8-0 and taking home the gold medal in the World University Games in South Korea.
Junior swingman Wayne Selden, Jr., led all scorers in the tournament, averaging just under 20 points per game, while junior guard Frank Mason III won the tournament MVP.
The tournament was beneficial to Kansas for multiple reasons, maybe most importantly being that a team with new faces blending with upperclassman had the unique chance to become a cohesive unit against actual opponents, during the summer.
Most programs spend the summer scrimmaging against themselves, which can become somewhat monotonous.
So far in early pre-season polls, Kansas has been among the top 5 ranked team, nationally. Depending on the status of top 5 freshman Cheick Diallo, KU has been listed as a potential No. 1 team start the year.
Regardless, Self has another team loaded with talent and role players capable of making a run to a Final Four.
Looking forward, several big match-ups lie in waiting for Kansas. Notable games include:
Nov. 17 – Michigan State @ Kansas (Champions Classic in Chicago, IL)
Nov. 23-25 – Potential games against Indiana, UCLA in Maui Invitational (Lahaina, HI)
Dec. 22 – Kansas @ San Diego St.
Notable Big 12 games include:
Feb. 3 – Kansas State @ Kansas
Feb. 13 – Kansas @ Kansas State
Wednesday, it was announced by KU Athletics that 25 games will be seen on ESPN, CBS, and CBS Sports Network. 23 of those games will be seen on ESPN, while one a piece will be aired on CBS and CBSSN.
KU is one of few teams nationally which will receive as much national TV exposure this season.
The Jayhawks should have an entertaining group this season. With three potential Conference Player of the Year candidates (Mason, Selden, and Perry Ellis), the Jayhawks are the favorites to win another Big 12 title, which would make it 13-straight. Their current record of 12 straight is one of the more underrated achievements in sports today.
Texas, Iowa State, and Baylor will all have teams ready to challenge the Jayhawks. First-year Texas Head Coach Shaka Smart will get his taste of Big 12 play and Allen Fieldhouse this season. Despite his success at VCU, Smart hasn't had the experience of playing in a major conference for an entire season.
Fred Holberg leaving Iowa State may not hurt the Cyclones as much as one would think, considering most of the returning players chose to stick around, but it certainly should impact their chances of winning a title.
With the talent and coaching, Kansas looks to be primed for a big year. You can purchase your tickets, today, for all of the prime-time, marquee match-ups at historic Allen Fieldhouse. Visit Tickets For Less now and choose from a variety of seating and pricing options, all with zero hidden service fees, and don't miss your chance to experience the height of college basketball!