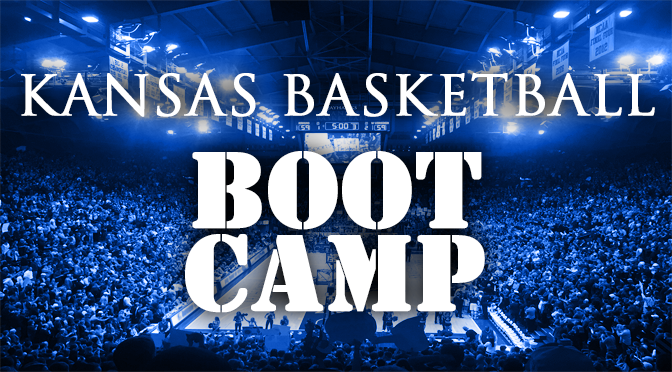 You know it's basketball season when Bill Self and his Kansas Jayhawks begin bootcamp.
This year, Jayhawk fans were treated to a mid-summer basketball season as KU traveled to South Korea to compete in the World University Games–taking home the Gold Medal and finishing 8-0.
With October rapidly approaching and Late Night in the Phog just around the corner, basketball season is here and Kansas has high expectations yet again.
Reloaded with a talented class which includes LeGerald Vick, Carlton Bragg, and Cheick Diallo, Bill Self continues to blend young talent with returning players with experience.
The one asterisk to KU's lineup, however, is the currently unknown status of freshman forward Cheick Diallo.
Due to a lack of what are considered transferable or acceptable core classes in high school, Diallo has been forced to cram in a full load of summer classes in order to provide the NCAA clearinghouse with the proper records to clear him for participation at Kansas.
Diallo was admitted as a student at KU, but his status on the team still remains a mystery. Self declines comment on the matter until he himself hears from the NCAA.
Unfortunately for Kansas, dealing with the clearinghouse has become somewhat of a regular occurrence of late, dating back to players such as Josh Selby, Ben McLemore, and Cliff Alexander.
Two of the three were eventually cleared, with Selby missing the first 1o games of his only season at KU, while McLemore were forced to sit out the first semester of his freshman season. Alexander ran into trouble for a non-academic situation, and although was never officially ruled academically ineligible, was recommended by the NCAA for KU to sit him while they investigated a potential violation.
In the case of Diallo, Self feels confident the NCAA will eventually clear him, but as time creeps by and the season comes closer to its start, the feeling around Lawrence begins to shift to one of disappointment that the key piece to the 2015 class and the team as a whole, will be forced to at least sit for a period of time.
Should Diallo be ruled ineligible, Kansas would most certainly take a hit in preseason polls, and would create a hole in the low post which otherwise would make them one of deepest and more talented front lines in the country.
Still, the Jayhawks are loaded with talent and on the perimeter, have more depth than nearly any team in the country.
Junior guard Wayne Selden, Jr., had a breakout summer in South Korea, averaging just under 20 points per game and leading his team to a gold medal along with junior point guard Frank Mason III.
Mason has become a hot pick for Big 12 Player of the Year and appears to be ready for a breakout season of his own at Kansas.
The ever-steady Perry Ellis is back as well for Bill Self, and will continue to serve as KU's quiet assassin on the offensive end of the floor.
Two players which could be difference-makers for the Jayhawks this season are Brennan Greene and Sviatoslav Mykhailiuk. Both guards have size and unlimited shooting range. Greene's attitude has come into question at times, and his lack of attention to detail on the defensive end of the floor has been the consistent issue for Bill Self in terms of playing time.
Mykhailiuk played his freshman year at 17 years old for Kansas, making him the youngest player in all of college basketball last season. Coming over from the Ukraine, Mykhailiuk is considered a potential first-round NBA pick when he comes out.
Mykhailiuk is a smart player with a solid all-around skill-set, even has a younger player. His international experience and coaching of the intangibles are one of the many reasons why Bill Self loves his potential.
With the season fast approaching, tickets are on sale for all the action inside Allen Fieldhouse. The home court of the Kansas Jayhawks is widely considered the best home court advantage in all of college basketball, and is a place where you can feel the history of the game. Tickets For Less has single-game tickets on sale now at incredible prices, with seating options located around Allen Fieldhouse. Head to Tickets For Less right now and purchase your seats with zero hidden service fees for all of the big-time home match-ups, including games against Kentucky, Oklahoma, Kansas State, Texas, and more!