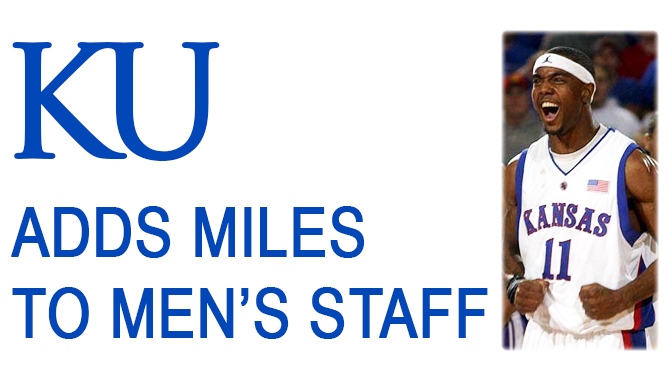 One of the all-time favorites among Kansas fans, Aaron Miles, has been added to Bill Self's basketball staff.
Wednesday, KU Athletics announced that Miles, who is recovering from a torn labrum, will join the staff as the assistant director of student-athlete development.
Bill Self said in the release that he has always wanted Miles on his staff, and despite the fact that Miles may likely want to continue his professional playing aspirations, he is out for this year and will spend it with the coaching staff to determine whether or not it may be a direction he would like to head in.
Miles is the all-time assist leader in school history, and was on what are considered two of the best teams in Kansas Basketball history both in 2001-2002, and 2002-2003 when he led a team with players such as Kirk Hinrich, Nick Collison, Drew Gooden, Wayne Simien, and Keith Langford. Aside from Langford, the other players named all have banners hung in Allen Fieldhouse and remain fan-favorites.
Miles was truly a floor general, and during Bill Self's first season with Kansas, led the Jayhawks to the Elite 8 in St. Louis before falling to Georgia Tech.
Particularly under Self, but as a general statement, Miles was the consummate floor general and point guard. A pass-first and high-IQ player, Miles commanded his team with precision and was able to initiate offense as well as keep his team calm in tight situations.
While under former coach Roy Williams, Miles was apart of two teams which are considered to be two that should have won a national title. The 2002-03 team fell short in the title game against Syracuse after a thunderous come-back in the second half, despite playing without Wayne Simien, who was out with an injury. Forward Jeff Graves played a major role in his stead and essentially kept the Jayhawks in it to the end.
In an even better version of that team the year before, Kansas fell to Maryland in the Final Four.
After Williams left for North Carolina, Bill Self was hired and the program and Miles was tasked with leading a different system, one predicated on defensive intensity as opposed to run-and-gun offense. Most felt as though the current crop of players would be resistant to a switch in philosophy, but Miles led his team to a successful season in Self's first year on campus.
Kansas waiting for NCAA to rule on Diallo
Due to the Royals playing playoff-caliber baseball, the Chiefs preparing to kickoff their season, and college football having started, the Kansas Jayhawks Basketball program has sort of taken a backseat, something not often seen.
While the program works its way toward yet another season full of title aspirations, Bill Self and his staff await word from the NCAA on highly-touted freshman Cheick Diallo. The No. 5 recruit, nationally, is under consideration by the NCAA due to potentially unaccredited classes taken at Our Savior New American, a school which has had problems with student-athletes and transferrable credits to colleges.
Self maintains that he is confident Diallo will be cleared, but has no timetable for such a ruling.
In search of positive signals, Pittsburgh freshman Damon Wilson, also a student at Our Savior, was cleared to play in 2015-16, Thursday.
The feeling around the program continues to be that Diallo will gain clearance, thus giving Kansas a game-changing post player which would be added to an already tremendously deep roster.
The 2015-2016 season is just around the corner and the Kansas Jayhawks have their sights set on more trophies. With marquee match-ups such as Kentucky and Big 12 rivals Kansas State, Baylor, Iowa State, and Texas, Allen Fieldhouse is set for another big year of basketball. Don't miss out on your chance to take in a game in one of the most historic arena's in the country. Tickets For Less has seats available to all home games during the season. Purchase yours today and Rock Chalk!