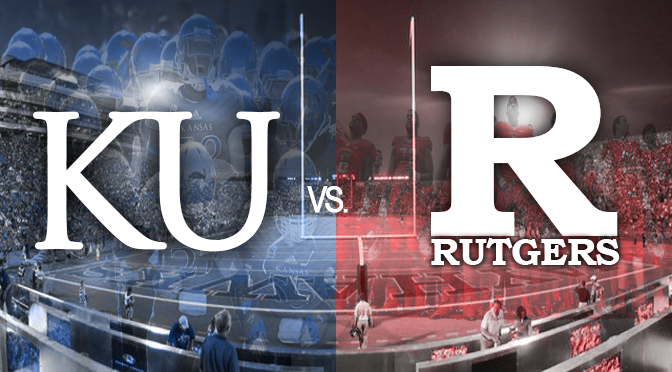 It's been a rough start for the Kansas Football team in 2015.
After a dismal loss to South Dakota St., at Memorial Stadium in week one, the Jayhawks followed up with a 55-23 loss to Memphis in front of a relatively large home crowd, being that it was family weekend.
Despite the losses, there are some positives to take away from the first two losses. Offensively, the Jayhawks can move the ball with a steady running attack and quick passing. There is still some doubt as to whether Montell Cozart is the right QB for the job, but until Michael Cummings is able to play, head coach David Beaty is likely to keep Cozart in that spot.
Against SDSU in week 1, Beaty replaced Cozart for a few plays with Ryan Willis.
In the loss against Memphis after the game was out of hand in the fourth quarter, Beaty inserted JUCO transfer Deondre Ford. The reason being that Ford outplayed Willis in practice during the week, which goes to show that Beaty will play whichever players are putting forth the best effort and production in practice leading up to each game–a philosophy which men's basketball coach, Bill Self, is known for.
On the ground Ke'aun Kinner has shown to be a viable option running the ball, and gives the Jayhawks a nice dimension to the offensive game and forces defenses to respect both the run and the pass.
KU's high tempo offense, however, means the defense is likely spend most of its time on the field. So far this season, that has resulted in tired players and lots of points being given up (95 in two games).
This weekend, KU hits the road to take on Rutgers, a team with talent, but is dealing with about as much adversity as one program can handle.
After discovering that head coach Kyle Flood attempted to secure a players' grade in order to keep him eligible, the university suspended him for three games, and many fans and boosters are calling for Flood to be removed as head coach.
As if the suspension of the head coach wasn't enough, seven players have been suspended in the past month, including top player Leonte Carroo.
According to a court complaint, Carroo slammed a woman's head on the concrete.
Many would argue that Rutgers' football program is out of control, and one could make a case for it, particularly considering the head coach is joining seven suspended players, but those which remain eligible to play aren't allowing a few bad apples to serve as an indicator as to the state of the program as a whole.
All Rutgers can do is focus on the task at hand and play with the players which are able to take the field. Unfortunately for Kansas, Saturday's game may be looked at as a chance to get things right, considering the lack of respect teams have for the Jayhawks.
Rutgers, in recent history, has consistently shown to be a solid program. Kansas hasn't seen the light of day for an FBS school, since 2009 when they captured the Insight.com Bowl championship. 2008 was the Orange Bowl year–the height of KU's football success.
For the Jayhawks, moving forward and continuing to improve, particularly on the defensive side of the ball, is the focus. David Beaty would like to see his team continue to show toughness and fight all the way to the final whistle, regardless of the score.
Kansas isn't going to be an overnight success, so fans expecting wins each week need to temper those expectations and watch patiently as Beaty and his staff change the culture around the program.
KU will next play at home, Saturday, October 10, against the Baylor Bears.
Baylor has proven to be one of the top offensive teams in the country, and will provide Kansas' defense with a big-time test. Tickets for KU's matchup against Baylor are available today at Tickets For Less. With zero hidden service fees, Tickets For Less has prices which actually reflect what you pay for tickets before you finalize your purchase. With plenty of seats available, don't miss out on your chance to cheer on the Jayhawks at Memorial Stadium. Rock Chalk!