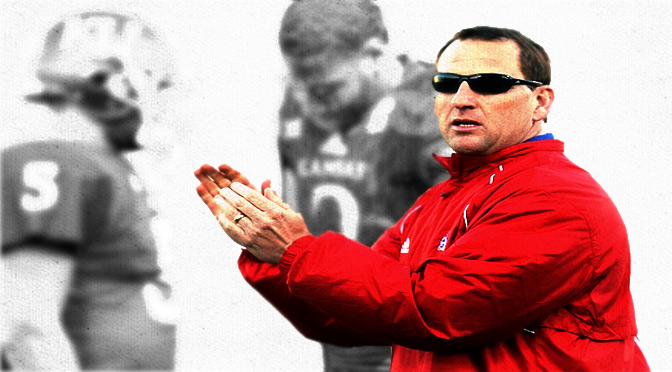 First year head coach David Beaty is experiencing plenty of adversity Kansas Football in 2015.
Saturday, he'll face even more as No. 3 Baylor Bears comes to town to take on an 0-4 Jayhawks team that is searching for some type of identity during what could potentially be an 0-12 season.
Following its loss to Iowa State (the second-worst team in the Big 12), Kansas is now staring down the barrel of its third string QB taking the snaps as starter for the foreseeable future.
Ryan Willis, the freshman standout from local high school Bishop Miege, is now at the helm of an offense which has struggled to amount to anything during its first four games.
Running back Ke'uan Kinner has been the line bright spot for KU, with a couple of big plays sprinkled in by the remaining players.
Willis, however, looks to be a player capable of moving an offense and sustaining drives. After going 8-of-16 for 100 yards against Iowa State, the Jayhawks are hoping his running ability and strong arm can lead to some important drives moving forward.
At this point in the season, a team like Kansas comes to the conclusion and accepts the reality that what the scoreboard says doesn't necessarily matter. Running the offense, completing drives with points, and competing on both sides of the ball, as well as special teams, is going to be the key to Beaty returning his program to where it was seven years ago under then-head coach Mark Mangino.
Mangino and Beaty had a lengthy exchange following last Saturday's loss, and Beaty has recently referenced Mangino's famous line when talking about his team; "keep sawing wood."
Baylor comes in leading the nation in several offensive statistics, and by all measures, has a significant advantage over a Kansas defense which has spent entirely too much time on the field through four games.
In reality, Baylor will probably insert its second and third-string players long before the final whistle, as Baylor is favored in Las Vegas by 44 points.
Kansas, however, will keep its starters on the field in an attempt to just get better at their execution both offensively and defensively.
The other important aspect to KU's growth is fan attendance. For a team hoping to improve from week to week and get back to winning football, seeing fans in the stands on a regular basis can only help the progress of the team and program.
Don't miss out on your chance to enjoy college football on a gorgeous fall morning by visiting Tickets For Less to purchase your seats for Kansas and No. 3 Baylor. With zero hidden service fees, you'll choose from the best seats at the best prices inside Memorial Stadium. Get out and support your Jayhawks for Saturday's matchup, as well as all upcoming Kansas Football games. Rock Chalk!