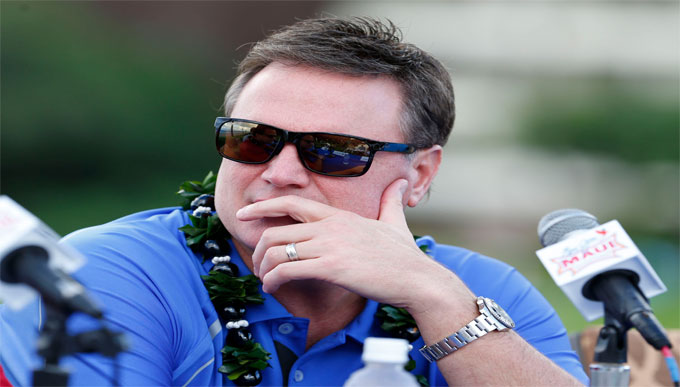 No. 4 Kansas is on its way to the Maui Jim Maui Invitational in hopes of recovering from a collapse against Michigan State earlier in the week after controlling the majority of the game.
Bill Self's team was and still should be considered one of the favorites to reach the Final Four, but there is reason for concern, as the loss to MSU closely resembles many of the losses Kansas has sustained over the past 2-3 seasons with this core group of players.
The common denominator seems to be a lack of toughness late in games when Kansas has the opportunity to clamp down on a lead and close teams out. Looking back, there are a multitude of examples in which the Jayhawks have quite simply, let games slip away. When the team hits an offensive drought, they don't seem able to stay with it on the defensive side of the ball to at least prevent their opponents from scoring.
No better example shows this theme better than Tuesday's loss, when in the last 5 minutes, KU struggled to score from any spot on the floor, while Michigan State–particularly Denzel Valentine–seemed to score almost at will.
Kansas will open tournament play against host team Chaminade, Monday at 8:00 pm., and should be considered a softball to start the tournament, considering the likes of Indiana, Vanderbilt, UCLA, and several others are also in the field for the 2015 edition of the Maui Invite.
Per usual, Kansas will look to senior forward Perry Ellis to lead the way on the offensive end. The downside to Ellis is he struggles to body up to power forwards on the defensive end, and sometimes could be considered a liability defensively, but his aptitude in scoring requires him to be on the court.
As an overall statement, this team needs to get better defensively.
Bill Self has always been known as a coach which features lock-down defensive teams, holding their opponents to sub-35% shooting, and commanding the rebounding margin on both ends of the floor.
Those types of statistics often come down to toughness, and that remains a category which KU needs fairly obviously improvement.
As former Kansas guard Mario Chalmers said regarding Self, "as long as we committed to playing tough defense on every possession, we could basically do what we wanted on offense."
That likely remains true with this team.
Upperclassmen such as Wayne Selden, Jr., Frank Mason III, and Jamari Traylor are the players which were recruited because of their tenacity, athleticism, and hard-nosed style of play, but in terms of consistency, Mason is really only one of the three that seems to play every game with the same intensity level.
A season-changer could come down to the play of Selden.
A 6-foot-5 combo guard now playing the small forward position, Selden is strong, athletic, and understands the game and what Kansas wants to accomplish, but it doesn't always seem to translate on the court under the bright lights.
Too often does Selden almost disappear in games when KU needs him the most. At the World University Games, Selden led the Jayhawks and the tournament in scoring on their way to the gold medal, and appeared to be primed for a similar output this season. Granted they've played just two games, but Selden seems to have fallen back into the, "one of the guys," role.
Bill Self will need much more.
The Jayhawks are the favorites to take the Maui title, and Self will look for his team to muscle up and show the field they are every bit as good as the preseason hype suggested.
Kansas will return home to take on Loyola (MD) at Allen Fieldhouse on Tuesday, December 1. Tickets For Less has a variety of seating options throughout the Fieldhouse. Simply head to Tickets For Less and purchase your seats to any of Kansas' 2015-2016 home games with zero hidden service fees tacked on to your purchase price. What you see is what you get at Tickets For Less. Don't miss out on any of the action inside the mecca of college hoops. Go Jayhawks!