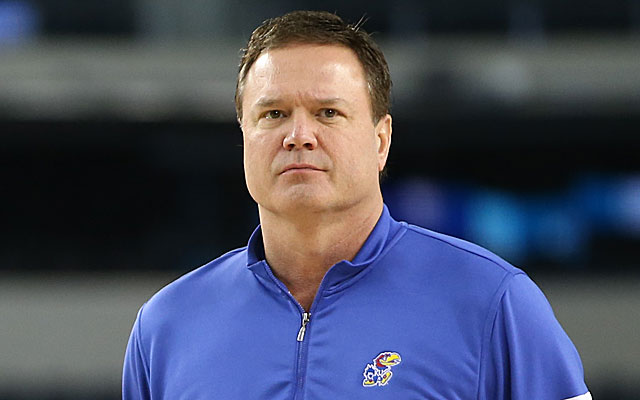 Could he? Sure, he could. The better question is: will he?
If you asked that question 10 years ago, or even eight, following his national championship in 2008, it may have seemed a little more conceivable. NBA circles were talking about him more frequently because with that level of success–the pinnacle of the collegiate game, it would seem like the right time to move up to the pros.
Now, heading into his 14th season at KU, NBA circles aren't talking about him as much, all the while he continues to win at an extraordinarily high rate, and he continues to sign the level of players that no coach will bail on.
This offseason, word out of Houston was the Rockets front office is intrigued by Bill Self. Intrigued, that's an interesting word for a coach which has a more than proven track record. They are also apparently intrigued by Shaka Smart at Texas, which makes sense considering his youth and potential as a players coach who could have success with NBA talent.
This upcoming season, Bill Self will have the No. 1 player in the country on the floor in 6-foot-7 swingman, Josh Jackson.
Whether Self would have interest in the Rockets or not, you don't sign a player of Jackson's caliber and leave.
Much like Andrew Wiggins, Jackson is the type of player that can take your team from a potential Final Four squad, to a national title favorite.
Over the course of his time at Kansas, Self has established himself as one of the best recruiters in the country, sending player after player to the NBA. He has had his share of one-and-done players, a trend that has plagued teams from building consistency from year to year because of the content turnover of top talent, but he plugs along and reloaded–never rebuilds.
Kansas pays Bill Self handsomely, with a salary north of $5 million a year. He's also locked into a never-ending contract, meaning KU will do what they can to keep him until he tells them he is leaving, and even then Kansas will do whatever it can to change his mind.
He's the king of Lawrence, Kansas, and in a position to make moving to the NBA lateral at best.
If you've ever watched professional basketball and have seen the turnover among coaches, you would see that most appear to be hired only to get fired. In many cases, coaches don't make it through 3 years with their team, and it doesn't matter how big your name is.
If someone like coach Self was going to take on a struggling franchise that lacks the infrastructure to get out of its rut, like so many NBA teams, you would do so with the understanding that you may be looking for a job within 3-5 years.
Infrastructure is important to coaches. The support and backing of your front office, or athletic department, is needed in order to establish a successful program. Self has that and more at KU, which is why since 2005, no team has won more games than KU.
Since 2000, Kansas and Duke are tied with the most NCAA tournament wins–42.
The only thing Self is missing from his resume is another national title. He's already a Hall of Fame coach whenever he is elected, but he wants at least one more championship at Kansas. He has too much talent and is too good a coach to have the one.
As long as he keeps bringing in the Josh Jackson's of the world and blends them with program leaders like Frank Mason III and Devonte' Graham, Bill Self isn't going anywhere.
---
Subscribe to Tickets For Less emails!