The Kansas Jayhawks men's basketball team has hit the midway point of the Big 12 season. Kansas leads the Big 12 and currently holds a 2-game lead on the competition.
The Jayhawks find themselves at 8-1 through their first nine Big 12 games, including a 24-point win over Baylor. Kansas's lone loss came on the road to Texas Tech. | GET TICKETS
BIG 12 CONFERENCE STANDINGS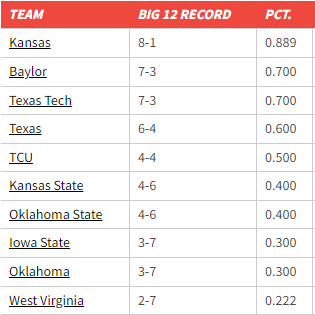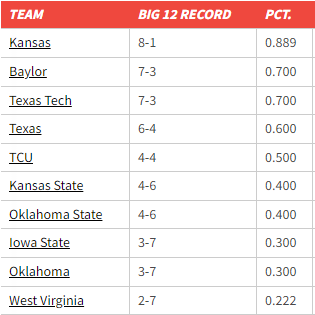 Kansas leads the Big 12 after a strong start. Kansas was picked to win the league in the preseason, and is currently on pace to do so. It won't be easy for the Jayhawks, who open the second half of Big 12 play on Feb. 7th at Texas, as well as a trip to Baylor still on the schedule.
HOW WE GOT HERE
Kansas got to this point behind All-American candidate Ochai Agbaji, who is having a breakout season after returning to KU for his senior season. Agbaji is averaging 20.8 points, 5 rebounds and 1.5 assists per game this season. He is also shooting 51% overall and is 46% from beyond the arc.
Kansas has also gotten strong contributions from Christian Braun. Braun is averaging 15 points, 6 rebounds and 3 assists per game this season. Jalen Wilson has also been key in conference play. Wilson has scored in double figures in six of nine Big 12 games this season.
David McCormack has also provided a spark of late, leading the nation in offensive rebounding. Despite playing with a nagging foot injury, McCormack is averaging 9 points and 7 rebounds.
REMAINING SCHEDULE – KANSAS JAYHAWKS
As the Official Marketplace of the Big 12 Conference, secure your seats to every Big 12 conference game from Tickets For Less. Find seats with no per-ticket fees, saving you big at checkout.