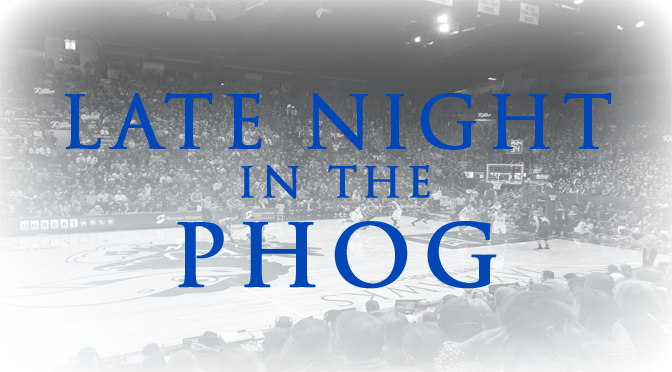 It's almost that time, Kansas Basketball fans.
With just two weeks to go before the 2015 addition of Late Night in the Phog, Kansas Basketball is on the verge of kicking off another promising year.
Friday, October 9th, Late Night will feature skits by both the women's and men's basketball teams, as well as special guest performers and likely something entertaining from the two coaching staffs.
The annual event has become quite the spectacle across college basketball and over the years has become the official start of the season.
Late Night's at the big-time programs has become such a massive event that ESPN has started broadcasting them, checking in at various arena's to provide fans from around the country to get an inside look at skits and scrimmages taking place at the likes of Kansas, Kentucky, North Carolina, Michigan State, and more.
KU head coach Bill Self has been known to show some flash at Late Night in the Phog. Between dressing up like a hip-hop star, to riding out on a specially designed chopper motorcycle, Self is well aware that fans want to see the coaching staff let loose and display some comedy routines themselves.
Late Night will run from 6:30 pm to 9:30 pm, with the highlight event taking place last; a running 20-minute clock will allow the men's players to scrimmage against themselves and give fans a glance at the 2015-2016 Jayhawks.
With a team filled with experience, and a young and promising recruiting class joining them, the Jayhawks will feature three players worthy of Big 12 Player of the Year honors, as well as potential rookie of the year award winners.
The looming question at the moment is whether or not star freshman and top 5 recruit, Cheick Diallo, will be cleared to play for KU.
Having attended a school with a sketchy record for core classes needed to become NCAA eligible, Diallo has been taking numerous classes at Kansas over the summer in order to gain his clearance. As of now, Diallo is not permitted to practice with his teammates.
Diallo should be considered a game-changer for Kansas, and as Self has said, the 6-foot-9 forward is as quick up and down the court as any player in the country.
Without Diallo, Kansas is still a very good basketball team and should be the favorite to win the Big 12 title and have them as one of the favorites to reach the Final Four.
Tickets are on sale now at Tickets For Less for all home games at Allen Fieldhouse. With premier opponents like the Kentucky Wildcats coming to town, KU will once again feature some of the best basketball in all of college hoops in the most historic arena in the country. Tickets For Less has plenty of seating options available for purchase, and with zero hidden service fees, what you see is what you get with 100% of all ticket purchases. Secure your spot in the best home-court in college basketball, today. Rock Chalk Jayhawk!