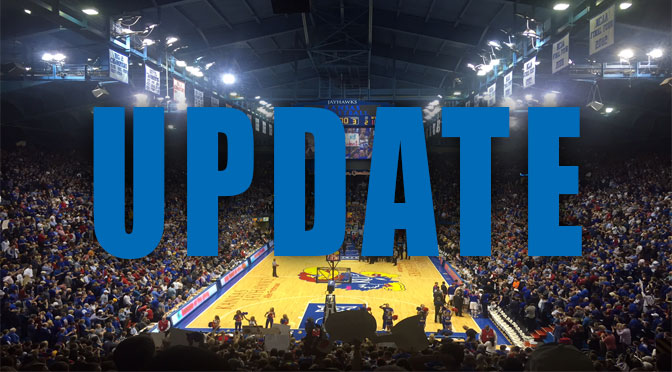 With excitement back in Lawrence for Kansas Basketball, the question of whether or not freshman forward Cheick Diallo will see the floor for the Jayhawks, remains.
According to Self, he was forced to spend, "the worst day as a head coach," Wednesday, when he spent time in meetings trying to figure out the current standing of his prized recruit, not allowing him to focus on that evenings' conference opener with the rest of his team.
Exhibition games don't typically require much prep for a team like Kansas, which is using it as a chance to get some live-action reps for its players before the real season begins.
Unfortunately, Kansas has a dynamic and talented freshman on its bench not knowing whether or not he'll be able to see the floor at KU in his first year.
Because of inconsistent academic records dating back to his education in native Mali, Diallo has been under review by the NCAA clearinghouse. Since his arrival in Lawrence over the summer, Diallo has taken a full load of classes to try and ensure that all requirements have been met and a proper and full transcript can be given to the NCAA to bolster his chances of gaining clearance.
With Self's comments this week, speculation that Diallo has actually been denied, but is currently in the appeals process, is growing. Self cannot and will not comment on the current nature of his meetings and conversations both with Kansas administrators and the NCAA, but it would appear his frustration level is growing by the day, stating that he expected a decision to have been made by now, but still hopeful something will be known prior to Nov. 13 when KU begins its regular season schedule.
This continues a long and arduous process with the NCAA where a player can be admitted as a student by a university, allowed to attend class, and in this case, allowed to attend practice, but must remain in limbo while the NCAA declares whether or not he is allowed to participate in actual games.
The idea that the NCAA is able to determine whether or not a kid should be allowed to come in as a freshman and play after he has already been admitted as a student, is ridiculous and wrong on multiple levels.
ESPN's Jay Bilas is one of the more outspoken about this subject, and understands that the NCAA shouldn't be in a position to determine whether a kid should be allowed to be a student somewhere, and that university's, which admit thousands of students a semester, have the capability to make that determination on their own.
As Self and his staff continue to work towards Diallo getting cleared, they must move forward with what they do have available, and that is a roster very much capable of winning a national title.
Mitch Lightfoot commits to Kansas
6-foot-10, 210 pound Mitch Lightfoot from Gilbert Christian High School in Arizona, announced his decision to head to Kansas in 2016.
Originally a commit to New Mexico, Lightfoot increased his visibility with high-level play over the summer and began seeing offers from various major programs come flying in.
Kansas recruited Lightfoot, who lived in Kansas City, Mo., until he was six, in hopes of landing a player known for his active motor, intangibles, and elite athleticism.
Often referred to as a player you love to have on your team, but hate to play against, Lightfoot will boost Kansas' roster, particularly when it comes to players able to rebound on both ends of the floor, and play with a consistent tenacity.
Lightfoot becomes the first commitment for Kansas in the class of 2016 and is likely to be joined by several other high-major talents before all is said and done.
Tickets are available for all upcoming home games at Allen Fieldhouse. With zero hidden service fees, what you see is what you get on all tickets purchases at Tickets For Less. Don't miss out on your chance to catch all the action inside the home of college hoops and cheer on your Kansas Jayhawks as they attempt to bring home a national title this season. Tickets For Less offers a variety of seating options throughout each of KU's home games this season. Get yours today and Go Jayhawks!