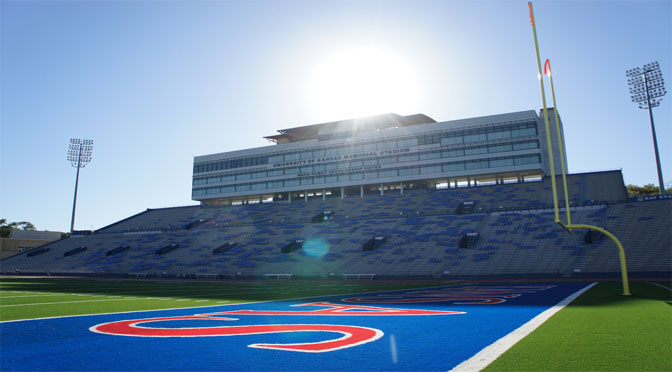 Les. Camera. Action! The Kansas Jayhawks football program finds itself in dire need of a savior. With that: Welcome to the Les Miles Era at the University of Kansas.
Miles comes to Kansas after being out of coaching since 2016. He spent the past few years working as a Hollywood actor and a college football analyst. Despite being out of coaching, his resume speaks for itself. Miles, 65, is one of the most accomplished coaches in major college football. He's won nearly 150 games, owns a national championship and multiple SEC titles and has had roles in multiple movies. For Miles, Kansas seems to be his opportunity to produce one last blockbuster moment before he hangs up his whistle and hopefully leaves college football on his own terms.
______________________________________________________________________________
Get your tickets to see Les Miles and the Jayhawks in action at Memorial Stadium from www.ticketsforless.com. We have the best tickets at the best prices to every home Kansas Football game.
______________________________________________________________________________
Les Miles: The Quick Facts
Miles was hired by the University of Kansas on Nov. 18, 2018 to a five year contract worth $13.8 million. Miles replaces David Beaty, who spent three years with the Jayhawks. Miles will look to turn around a Kansas football program that has won just 30 games in eleven seasons since winning the 2008 Orange Bowl.
Les Miles is easily the most iconic and successful coach to ever be hired by the Kansas brass. He brings with him one of the most impressive resumes of any active coach in the country. His 142 victories rank sixth among active major college football coaches. He is also one of just six active coaches with a national championship under his belt.
Miles also brings with him a gigantic personality, which Kansas hopes will help lure recruits to Lawrence.
Les Miles Coaching History
Les Miles first became a collegiate head coach at Oklahoma State University, leading the Cowboys from 2001-2004. In four seasons at Oklahoma State, Miles led the Cowboys to three bowl appearances in four seasons and finished with an overall record of 28-21.
In 2005, Miles left Oklahoma State to become the head coach at Louisiana State University, where he coached for twelve seasons before being let go in 2016. During his twelve seasons at LSU, Miles won one National Championship, two SEC Championships and three SEC Western Division titles. He led the Tigers to seven 10+ win seasons and finished 7-4 in bowl games, winning the 2007 BCS National Championship.
______________________________________________________________________________
Get your tickets for the first game of the Les Miles Era from Tickets For Less. The best seats. The best prices. Memories for life!
______________________________________________________________________________
The Miles Effect: Behind the Curtain
With the 2019 season quickly approaching, the Big 12 Conference and ESPN+ recently announced a special 18-part series featuring the Jayhawks. that will give viewers a behind-the-scenes look at Coach Miles and Kansas Athletic Director Jeff Long as they attempt to bring Kansas football back to national prominence.
Miles, who has appeared in multiple movies as well as on television as an analyst over the past few years, seems to relish in front of a camera. The unprecedented series feels like something that Miles will flourish in. Plus, the added exposure for the Jayhawks will only help in recruiting, another area of coaching that Miles has long excelled in.
For more information on the 18-part series that will air on the newly created Big 12 Now network and ESPN+, CLICK HERE.
Les Miles: The Mad Hatter
Miles was given the nickname "The Hat" and "The Mad Hatter" during his days at LSU. It came to be for always wearing a crisp, new white hat every game day and at practice. "The Mad Hatter" came into play due to his play-calling tendencies when it came to trickery and deception.
Miles has continued his use of the white hat, though that hat now dons the Jayhawk logo. You can expect that the Les Miles Era will be full of white Jayhawk hats.
Les Miles: The Recruiter
Miles is considered to be one of the top recruiters in the country. He has been all the way back to his days at Oklahoma State. Miles consistently had Top 10 classes at LSU, and the leadership at Kansas is hoping that Miles can work his recruiting magic in Lawrence.
Doubters would say that Miles is too old, or that it is much easier to recruit to a powerhouse program in Baton Rouge, but Miles is proving he still has it in his short time thus far at Kansas.
Since taking over in November of 2018, Miles has turned the 2019 Kansas recruiting class into a Top 70 class. It may not sound like much, but when you dive into where the class was before he took over, it becomes much more impressive. The Hat is also working his magic on the 2020 class. It currently has a Top 20 ranking in the nation, including the third-best in the Big 12.
______________________________________________________________________________
Les Miles and the Jayhawks open Big 12 play on September 21 against West Virginia. Get your tickets now from Tickets For Less!
______________________________________________________________________________
What Does it all Mean??
Time will tell if the Les Miles Era will be a success at Kansas, but we would argue yes already. Kansas has not been anywhere near the national spotlight over the past decade, except to point out losing streaks. . It is recruiting gold. The recruiting class is already in great shape, and the series should only help.
The excitement around Miles and the Kansas football program is as high as it has been in years. The Jayhawks won three games in 2018, which was the same amount of games the program won from 2015-2017 combined. If Miles can coach the Jayhawks to six wins and a bowl in 2019, National Coach of the Year conversations would not be out of the question.
Either way, we can guarantee you one thing: The Les Miles Era at Kansas is going to be full of entertainment, and we are here for it. We will see you on August 31st at Memorial Stadium for the official start of The Les Miles Era at Kansas as they host Indiana State.